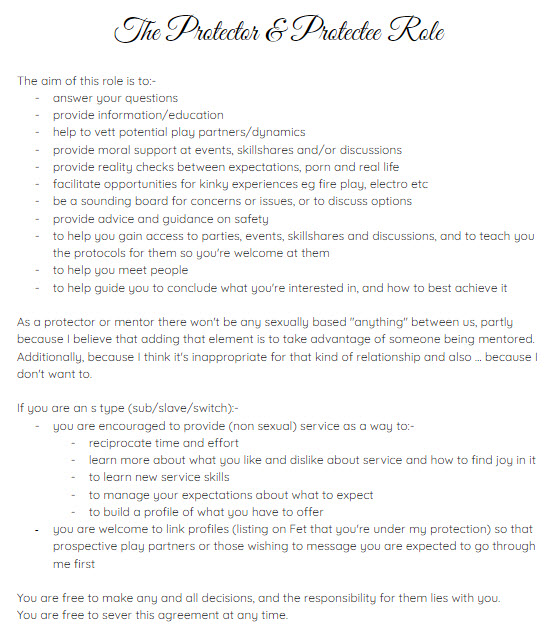 The aim of this role is to:-
answer your questions
provide information/education
help to vett potential play partners/dynamics
provide moral support at events, skillshares and/or discussions
provide reality checks between expectations, porn and real life
facilitate opportunities for kinky experiences eg fire play, electro etc
be a sounding board for concerns or issues, or to discuss options
provide advice and guidance on safety
to help you gain access to parties, events, skillshares and discussions, and to teach you the protocols for them so you're welcome at them
to help you meet people
to help guide you to conclude what you're interested in, and how to best achieve it
As a protector or mentor there won't be any sexually based "anything" between us, partly because I believe that adding that element is to take advantage of someone being mentored. Additionally, because I think it's inappropriate for that kind of relationship and also … because I don't want to.

If you are an s type (sub/slave/switch):-
you are encouraged to provide (non sexual) service as a way to:-
reciprocate time and effort
learn more about what you like and dislike about service and how to find joy in it
to learn new service skills
to manage your expectations about what to expect
to build a profile of what you have to offer
you are welcome to link profiles (listing on Fet that you're under my protection) so that prospective play partners or those wishing to message you are expected to go through me first 
You are free to make any and all decisions, and the responsibility for them lies with you.
You are free to sever this agreement at any time.
This document is one persons opinion. You're free to use and edit as you wish.